providing quality
cubical curtains & track
for over 50 years
1961
James Condon moves his family from Minnesota to Fullerton, California
He goes to work for his sister who owned a Drapery Workroom
1963
James takes a job selling drapery hardware for Graber. At the same time, he opens his own small business, called Covoc on Gilbert Street in Fullerton, manufacturing workroom equipment at nights and on weekends.
1969
Covoc moves to a converted home on Commonwealth Avenue in Fullerton and starts selling all types of window coverings. James lands the two big jobs for Covoc: the new Main Building at St. Jude Hospital and the new Brashears Office Building located at the corner of Harbor and Brea Blvd.
1970
Covoc incorporated becoming Covoc Corporation.
1971
Covoc moves to new location on Anaheim Blvd in Anaheim and begins manufacturing draperies, drapery hardware, cubicle curtains and cubicle track
1975
After graduating from High School, James' son Brad joined the company and moved to Hawaii to open the new regional office and oversee several large projects, including Queens Medical Center, the new Kapiolani Medical Center and Kuakini Medical Center.
1976
Covoc moves to its current location on Valencia Drive in Fullerton and opens a regional office in Atlanta, Georgia
1977
Brad moved back to California from Hawaii and became Vice President of Covoc Corporation.
1977
to
1985
Covoc was involved in several large international projects,Furnished and installed all window coverings, cubicle curtains and cubicle track,and wall coverings for the new King Faisal Specialist Hospital in Riyadh, Saudi Arabia.Furnished and installed all interior furnishings (furniture and window coverings) for the new Sheraton Hotel in Amman, Jordan.
1992
James Condon retired and named his son, Brad, President of Covoc Corporation
2010
After graduating from Cal State Fullerton, Brad's son, James joins the company
2017
Brad becomes CEO and names his son, James, President of Covoc Corporation.
Why Covoc?
Covoc Corporation is the leading U.S. manufacturer and global distributor of custom patient-privacy cubicle curtains. Founded in 1964 by the Condon Family, and now run by the second and third generations, Covoc uses the latest technology to produce stylish, high-quality curtains that help provide a comfortable environment for their customers.
As a specialist in privacy curtains, accessories and window coverings for hospitals, medical clinics, businesses, educational facilities, and other commercial interiors, Covoc focuses on innovative design, high-quality workmanship and unmatched customer service.
Covoc's success is rooted in the family principles it was founded upon – providing service that goes beyond expectations, and that exceeds industry standards for operational excellence and environmental stewardship.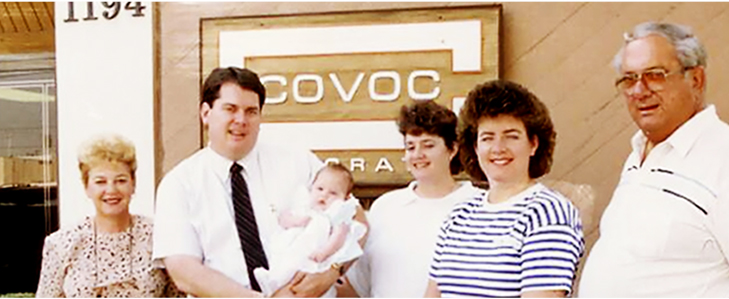 shop now
California State Contractors License 277127
State of California Certified Small Business (Supplier #1743690)
At Covoc, we are committed to producing
and delivering the very best products and privacy solutions
each and every day.